GHIN® Network Status
eGolfer (GHIN.com)

Mobile Phone Apps

Club Posting Stations

GHIN Admin (Club Only)

TM-Club
Tournament Management - Club
New!
USGA Tournament Management software is a new program available to member clubs of the CGA, SCGA and WSCGA. This new tournament management product will replace the current versions of TPP (TPP-Client and TPP Online Club). The U.S.G.A. will be retiring their TPP programs at the end of 2017. After December 31, 2017, TPP will no longer operate or connect to any USGA handicap or course ratings systems.
During the upcoming year each club will have the opportunity to convert to the new USGA Tournament Management Club program (TM-Club for short). To learn more about this transition please read the TM-Club Announcement and the TM-Club Information Fact Sheet at the links listed below.
Clubs desiring to use the new program must attend a TM Qualifying Seminar prior to using the software. TM Qualifying Seminars are being set up for sites around the Carolinas and registration is available online. Please check out the schedule & registration link below to find a seminar in your area.
USGA Tournament Management


---- GENERAL INFORMATION
| | | | | | |
| --- | --- | --- | --- | --- | --- |
| | - Online Seminars | | - NC Regional Seminars | | - SC Regional Seminars |
Summer 2017 - TM Qualifying Seminar Schedule
Last Chance to Attend an Onsite Seminar and Get Access to the TM-Club Software
Date
Day
Time
Location
Host Venue
Links
Facilitator

July 11

Tue

1:30p - 4:30p

Online Seminar

- - - - -

Register

Doug Hardisty

July 20

Thu

1:00p - 4:00p

Sandhills, NC Area

Carolinas Golf House

Register

Doug Hardisty

July 24

Mon

1:30p - 4:30p

Online Seminar

- - - - -

Register

Doug Hardisty

July 25

Tues

10:00a - 1:00p

Raleigh, NC Area

MacGregor Downs CC

Register

Tom Johnson

July 26

Wed

1:30p - 4:30p

Greenville, SC Area

Holly Tree CC

Register

Doug Hardisty

July 27

Thu

1:30p - 4:30p

Columbia, SC Area

SCGA Offices

Register

Doug Hardisty

July 31

Mon

1:30p - 4:30p

Cashiers, NC Area

Trillium Links and Lake Club

Register

Doug Hardisty

Aug 2

Wed

10:00a - 1:00p

Wilmington, NC Area

Carolina National

Register

Tom Johnson

Aug 3

Thu

9:00a - 12:00p

Myrtel Beach, SC Area

Prestwick CC

Register

Tom Johnson

Aug 3

Thu

1:30p - 4:30p

Online Seminar

- - - - -

Register

Doug Hardisty

Aug 21

Mon

1:30p - 4:30p

Online Seminar

- - - - -

Register

Doug Hardisty

Aug 23

Wed

9:00a - 12:00p

Charleston, SC Area

Bulls Bay Golf Club

Register

Doug Hardisty

Aug 24

Thu

10:00a - 1:00p

Hilton Head, SC Area

Golf Club @ Indigo Run

Register

Doug Hardisty

Aug 25

Fri

Hilton Head, SC

Sun City Hilton Head

Private

Doug Hardisty

Aug 28

Mon

1:30p - 4:30p

Online Seminar

- - - - -

Register

Doug Hardisty

Aug 29

Tue

Charlotte, NC (South)

TBD

Tom Johnson

Aug 30

Wed

Charlotte, NC (North)

TBD

Tom Johnson

Sep 1

Fri

Yadkin, NC Area

TBD

Tom Johnson

Sep 5

Tue

1:30p - 4:30p

Online Seminar

- - - - -

Register

Doug Hardisty

Sep 11

Mon

1:30p - 4:30p

Wilson, NC Area

Wilson Country Club

Register

Doug Hardisty

Sep 25

Mon

1:30p - 4:30p

Online Seminar

- - - - -

Register

Doug Hardisty
USGA Tournament Management


---- QUALIFYING SEMINAR MATERIALS
USGA Tournament Management


---- WHERE TO START YOUR TRAINING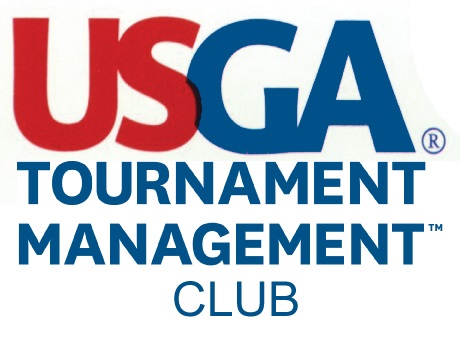 Step 1:
TM-Club "Start Here" Videos
As a new user of USGA TM-Club, you are encouraged to become
familiar with the information in this tutorial & videos
Step 2:
Overview of the Manager Site


For every event or league, there is a manager site
Step 3:
Customer Center Tour


The customer center is your home base
Step 4:
TM-Club Components are the building blocks for running your event
Step 5:
Begin to build some practice events and tournaments
Use some of the tutorials below for more help about TM-Club options
Step 6:
After learning the basics of the program but sure to use some of the great
built-in verification options. Here are three critical tools that will help
you to produce accurate events every time you run an event:

Review the Handicap Analysis Summaries

Enter Random Scores and Test the Leaderboard
USGA Tournament Management


---- TOURNAMENT GUIDES
USGA Tournament Management


---- ADDITIONAL TRAINING GUIDES & ARTICLES