GHIN® Network Status
Desktop (GHIN.com)

Mobile Phone Apps

Club Posting Stations

GHIN Admin (Club Only)

TM-Club
Getting Started
The Golf Genius Tournament Management software is a state-of-the-art online "cloud-based" tournament management program. It handles many of the complex elements necessary to set up, run, and score a club event or league. There are many moving parts involved in putting together a first-class event and TM-Club can handle a vast majority of the required elements. As such, there are many options available within the software and this makes the program a little daunting for a beginner to learn. However, the good news is 1) there is a User's Manual (called a User Knowledgebase) built right into the software and 2) once a user has completed the challenging early learning curve (lasting about 2-3 months or 4-5 events), the program becomes much easier to use and the user becomes more efficient rather quickly.
Because the program is "self-taught" training, we wanted to lay out the steps we recommend to get you started on your way.
Step 1 - Introduction
Contact Carolinas GHIN Support staff for access to your club's version of Golf Genius.
Step 2 - A Little Reading
Before you dive into the program, it is extremely helpful to become more familiar with what each section of the software accomplishes. There are tutorials built into the Knowledgebase that describe with clear language and examples how the major components of the software work. The links for each of these short tutorials are listed below and should be studied in the order presented. (They do not take long to read - about 10-15 minutes for the longest of the tutorials.)
"Start-Here" Videos

- a short video overview of the TM-Club program authored by the software developer - Golf Genius.

Customer Center Tour

- the Customer Center is your home base for the software. Every time you log into the program you will come to the Customer Center. Here you are able to control overall software settings for your entire club.

Manager Site Overview

- for every event or league, there is a manager site where you will use the TM-Club components to build and run your event or league.
TM-Club Components - there are 5 major TM-Club components which are the building blocks for setting up and running a league or event. Each component is covered in detail by a separate tutorial:
Step 3 - Basic Set-up
Next, you need to set up some of the basic rules and defaults for your club. These are steps you will need to finish before you can begin to use the program to build events or leagues.
Setting up your Course – Please read this article on loading your golf course into Golf Genius. Following those instructions helps to ensures that the courses you use are:
World Handicap System (WHS) Compliant
Allow hole-by-hole score posting
Allow scores to be used for Playing Condition Calculations (PCC)
Allow scores to be used for playing statistics
Setting up your Master Roster - This is an opportunity for you to add your club's members to the Master Roster in the program so you can load players into events or leagues with ease. The tutorial is located here - Master Roster - Player Management
Adding Managers to your TM-Club Software - it is recommended that every user of the program at your club has their own login credentials - username (email) and password. You have the control to add as many Customer Managers to your site as you wish. Each user must have a unique email address not used by anyone else in the Golf Genius system. Since each user has their own credentials, it is important to remember they also have complete control over your site. Be sure to give credentials only to those individuals you trust not to create any turmoil in your TM-Club site. Adding Customer Manager information is at this link - Customer Managers
Step 4 - Trying out the Software
Now you are ready to try your hand at a test event or league. Rather than poke around and try to figure out what every component options does, we recommend you try to build a few test events using the step-by-step guides included in the Knowledgebase. Start out with something simple and then once you are satisifed you have the basics down pat, you can move on to a more complicated event. Once you have tried a couple of test events, you will feel better prepared to dive into your first live event. Here is a sampling of guides for your use:
Step 5 - Go Live!
Now that you have made it through all of the training steps, it is time to put together a live event. Take everything you have learned together with:
A list of the players in the event
The Tournament Committee's event terms of competition
and get started running professional events using all of the TM-Club tools in your toolbox.
Step 6 - Problems? Questions?
If you get stuck along the way, there's help waiting right around the bend. On every page of the program you will find an Orange HELP button in the lower right hand side of the page. Clicking on the HELP button will bring you to the built-in Knowledgebase where you can get answers to most of your day-today questions. Simply type in a few words or key phrases that describe what you are looking for and the program will immediately give you a list of possible answers to your query.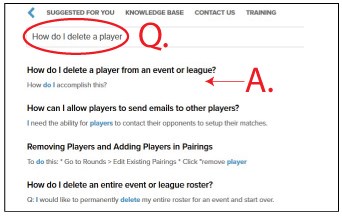 If you don't find the answer you are looking for, the CGA's Carolinas GHIN Support team is your next level of support. Contact us whenever you run into a problem or question that you cannot find the answer to in the program's Knowledgebase. While still in the Knowledgebase, click on the menu option "Contact Us" (at the top of the Help screen). Fill out the requested information and tell us details about your question and send the chat request on to us. Your chat request will pop up on our computers and we will be able to work you to find a solution. For more information on how TM-Club Support works, please go to TM-Club Support here on the Carolinas GHIN Support website.
Finally - Other Useful Tools
Here are some other links to tutorials you may find useful as you become more advanced with your study of the software. Once again, all of this information is contained in the Knowledgebase. We have just pulled out a few things that you may want to look at in order to elevate your events to the next level of creativity, branding and special effects that will make your events the pride of your club and your members.