GHIN® Network Status
Desktop (GHIN.com)

Mobile Phone Apps

Club Posting Stations

GHIN Admin (Club Only)

TM-Club
Golf Genius Support
There are various ways to obtain support help for Golf Genius Tournament Management. Listed below are the sequence of steps you should follow when needing answers to your questions about TM-Club. Also, be sure to read through our list of the Top Ten Pitfalls to see if one of our tips will help you out.
TM-Club Knowledgebase
On every page of the program you will find an Orange HELP button in the lower right hand side of the page. Clicking on the HELP button will bring you to the built-in Knowledgebase where you can get answers to most of your day-to-day questions. Simply type in a few words or key phrases that describe what you are looking for and the program will immediately give you a list of possible answers to your query. You may have to try a couple of different word combinations to get to the help you need, but the Knowledgebase is very powerful and most of your answers to typical event questions can be found here.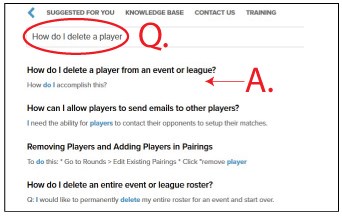 ---
Chat Request - "Intercom"
The Carolinas GHIN Support team is your first level of support when you are unable to find the solution you seek in the Knowledgebase. The preferred method to contact the support team is to use a chat feature called Intercom built into the TM-Club program. To access Intercom you start by clicking on the Orange HELP button on any page in TM-Club. At the top of the help page is a "Contact Us" link. This will start the chat session with Carolinas GHIN Support. Fill out the requested information and then tell us what problem/question you are looking for help with.
Using Intercom Chat

Step 1: Choose the type of problem

Step 2: Describe the problem in detail

Step 3: Fill in your email address

Step 4: Send intercom message

NOTE: Every new issue deserves its own dedicated Intercom session. Please do not pick up an old session to begin a new topic. Your old session will only alert the last support person who worked with you. They may very well be tied up with other duties, out of the office, or on holiday. Therefore, your request for help may never be answered.
---
Intercom Chat Follow-up
If you have initiated an Intercom support chat and the help window stays open, our response to your request will pop up within the help window in real time. However, if you have closed the help window and want to get back to the original chat thread follow these steps:
Chatting on Intercom

Step 1: Click on the Orange HELP button

Step 2: At the very bottom of the Help Screen is a link
to "Past Conversations" - click on this link

Step 3: It will show you a list of your past Intercom chats -
you should click on the top most item in the list

Step 4: This will bring you back to the screen showing you
the entire chat thread. You can see both your input as well
as our support help comments.

Step 5: When you are finished with the chat session you
can close out the chat window by clicking on the "X" at
the top of the chat pop-up window.
---
Carolinas GHIN Support Phone Support
The Carolinas GHIN Support team is available to support Golf Genius Tournament Management Users via telephone during regular business hours. You can reach us at 910.687.4040.